In-Depth Lectures on the Sultanate of Oman
Commemorative event on the 50th anniversary of the establishment of diplomatic relations between Japan and the Sultanate of Oman
UTCMES Seminar Series, 2022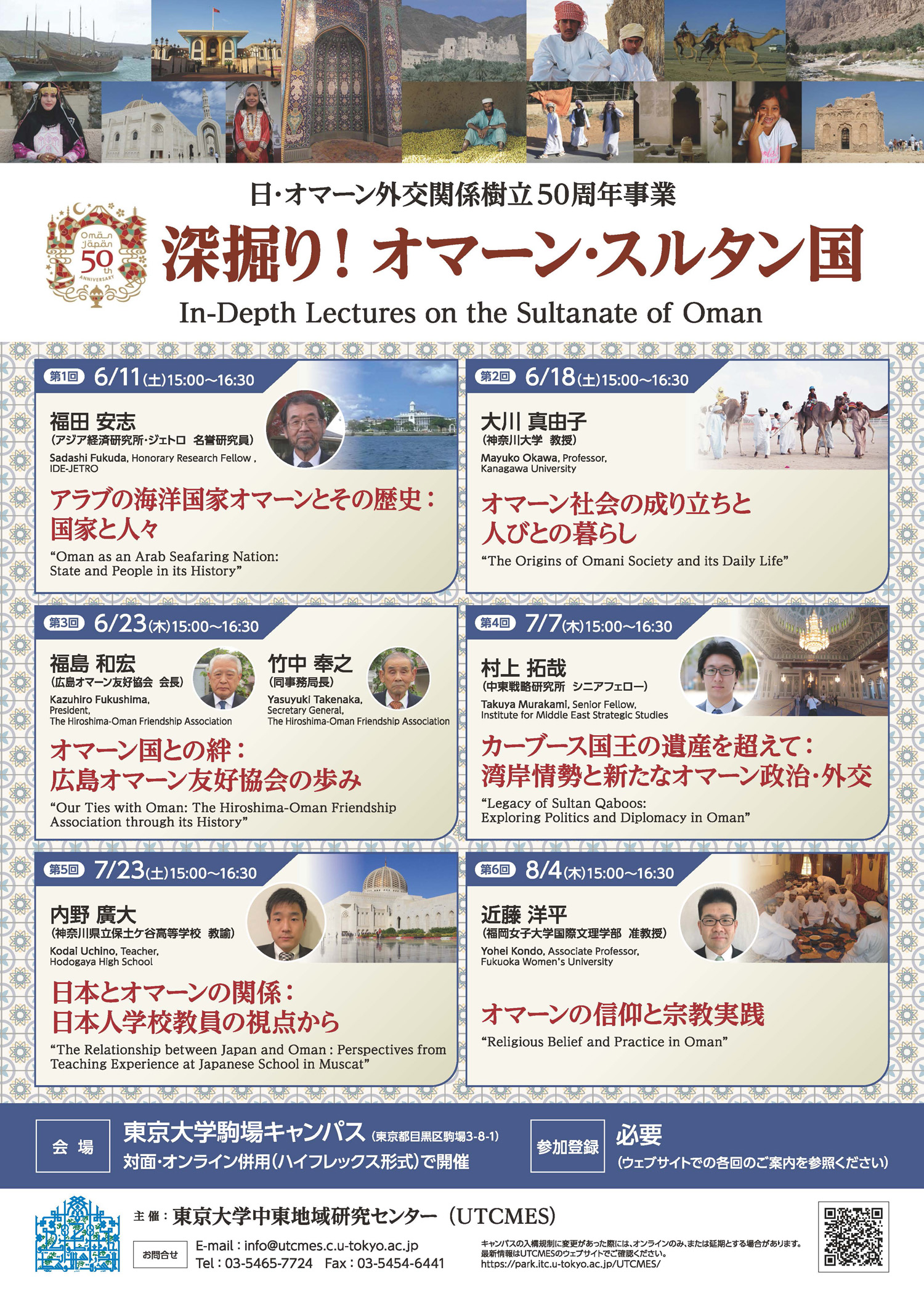 The University of Tokyo Centre for Middle Eastern Studies (UTCMES) will hold a series of public seminars "In-Depth Lectures on the Sultanate of Oman" within the framework of this anniversary.
The event is free of charge.
Details of each lecture will be updated and posted on our website.
We sincerely look forward to your participation.
6/11 (Sat.) 15:00-16:30
Sadashi Fukuda, Honorary Research Fellow, IDE-JETRO
"Oman as an Arab Seafaring Nation: State and People in its History"
6/18 (Sat.) 15:00-16:30
Mayuko Okawa, Professor, Kanagawa University
"The Origins of Omani Society and its Daily Life"
6/23 (Th.) 15:00-16:30
Kazuhiro Fukushima, President, The Hiroshima-Oman Friendship Association
Yasuyuki Takenaka, Secretary General, The Hiroshima-Oman Friendship Association
"Our Ties with Oman: The Hiroshima-Oman Friendship Association through its History"
7/7 (Th.) 15:00-16:30
Takuya Murakami, Senior Fellow, Institute for Middle East Strategic Studies
"Legacy of Sultan Qaboos: Exploring Politics and Diplomacy in Oman"
7/23 (Sat.) 15:00-16:30
Kodai Uchino, Teacher, Hodogaya High School
"The Relationship between Japan and Oman: Perspectives from Teaching Experience at Japanese School in Muscat"
8/4 (Th.) 15:00-16:30
Yohei Kondo, Associate Professor, Fukuoka Women's University
"Religious Belief and Practice in Oman"
*All lectures will be given in Japanese